New "Civil Society & the Right to Access Resources" Tool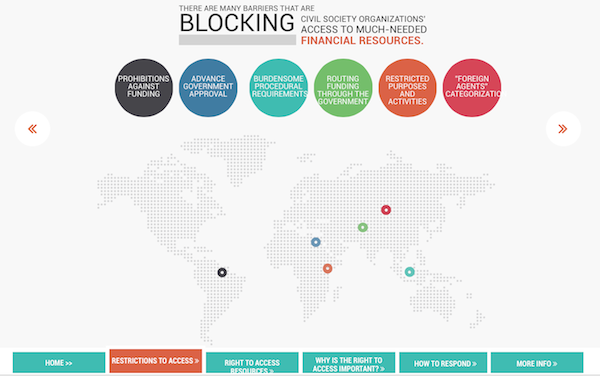 Are you an activist curious about your legal right to receive domestic and foreign funding? The World Movement for Democracy's new "Civil Society and the Right to Access Resources" interactive infographic provides clarification about this very issue. The tool demonstrates how the right to access donor funding is defined by the international community and explains key elements of international law that protect it.
The user-friendly interface highlights how restrictive governments have used registration, tax, and anti-terrorism laws to limit these rights and suggests advocacy strategies activists can use to protect this right. Many of these restrictions on access to domestic and foreign donor funding limit and threaten the existence of Civil Society Organizations (CSOs). Check out the infographic here, and share it with your network on Facebook and Twitter.
Featured in This Issue:
New "Civil Society and the Right to Access Resources" Tool
EITI Requires Azerbaijan to Reform NGO Laws
Transgender Community Makes Progress in Pakistan
Civil Society Collaborates on New Global Initiatives
#SetThemFree Campaign Welcomes the Release of Political Prisoner Eduard Palchys
Highlights From World Youth Day for Democracy 2016
___________________________

HELP POLITICAL PRISONERS
#SetThemFree Campaign
www.helpsetthemfree.org
___________________________
STAY CONNECTED
___________________________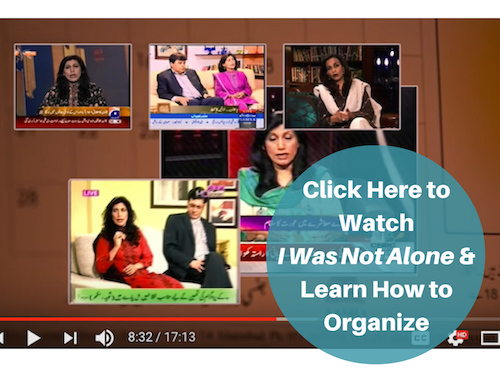 EITI Requires Azerbaijan to Reform NGO Laws
On October 26, 2016, the Extractive Industries Transparency Initiative (EITI) Board stated that if Azerbaijan's government fails to amend restrictions on NGOs before next March, their EITI membership will be suspended. The EITI is an initiative that oversees the international "standard for transparency and accountability around countries' oil, gas and mineral resources." Azerbaijan's EITI membership is considered instrumental to the country's oil and natural gas economy. Without it, Azerbaijan may be deemed ineligible to receive loans from the World Bank for planned infrastructure projects.
The announcement came six days after Civil Society Organizations (CSOs) signed a joint letter calling upon members of the EITI Board to suspend Azerbaijan's membership until the country improves its human rights record. Signatories of the letter urged the EITI to require Azerbaijan to eliminate laws restricting NGO operations and unconditionally release all political prisoners. Two members of the EITI NGO Coalition of Azerbaijan – a group involved with EITI processes – are currently imprisoned along with 92 others according to the updated political prisoners list published by Azerbaijan activists and journalists (only Azerbaijani version available). Soon after the release of the joint letter, the UN Human Rights Committee also reviewed the "systematic repression" of human rights in Azerbaijan at the 32nd Session of the UN Human Rights Council. A brief video from the session about human rights in Azerbaijan can be watched here.
Transgender Community Makes Progress in Pakistan
The transgender community scored a historic victory last week when the Islamabad High Court granted their writ petition ruling that authorities must add a transgender category to the national census form. Since September 2016, the Trans Action Alliance Khyber Pakhtunkhwa (Trans Action KP) has been pushing a writ petition calling for a more inclusive national census in Pakistan. The writ petition came in response to the Pakistani government's decision to delete an element of the census, which transgender individuals were originally listed under. The deletion left only female and male columns as selectable options for registrants in the census. Advocates for the Trans Action Alliance used Article 199 of the Constitution to file the writ petition against government entities involved in the census.
In addition, the National Database and Registration Authority (NADRA) may have to issue Computerized National Identity Cards (CNICs) that define transgender as a selectable option for gender. Trans Action KP is the "first ever organized transgender movement of Khyber Pakhtunkhwa, Pakistan," and works to advance the rights of the trans community. The movement is an initiative of the progressive Pakistani civil society organization, Blue Veins.
Civil Society Collaborates on New Global Initiatives
In October 2016, CSOs introduced two initiatives that will strengthen cross-regional collaboration among global activists. CIVICUS released a new web platform, CIVICUS Monitor, to provide "reliable, and up-to-date data" about the "volatile" conditions that affect global civil society. With an interactive map interface, viewers can easily explore curated, verified information on civic space developments. Many of these updates are sourced from local civil society organizations which CIVICUS will use to analyze regional and global trends in civic space. The goal of the CIVICUS Monitor is to comprehensively track the dangers affecting civil society in every country of the world. Rate or submit information about your country here.
Last week, leaders of international civil society organizations (ICSOs) convened in Berlin, Germany, for the "Global Perspectives: The Future of Civic Space" conference. At the event, activists launched the Civic Charter, a two-page document that is a "global framework for people's participation in shaping their societies." The Charter recognizes the universal human rights that are protected by international covenants and agreements and urges governments and public institutions to respect them. Signatories of the Charter are encouraged to use the document as a campaign and education tool back home. To read the Charter or sign on as an individual or an organization, click here.
#SetThemFree Campaign Welcomes the Release of Belarusian Political Prisoner Eduard Palchys
On October 28, 2016, Eduard Palchys, Belarusian blogger and founder of the website 1863x.com, was released from prison after 9 months in pre-trial detention. After being released, Palchys credited the international solidarity efforts for his release, stating, "...I thought they would imprison me for three years. The sentence is the result of the civil society's support. No one needs people serving in jail over politics." Join the #SetThemFree Campaign in expressing solidarity with political prisoners around the world by learning their stories here.
World Youth Activists #Amplify Democracy
On October 18, youth activists around the world mobilized to celebrate World Youth Day for Democracy. Over 500 individuals, and 45 organizations participated in the event worldwide. More than 70 organizations and activists hosted online and live events across 25 countries. Check out our Storify compilation that highlights just a few of the participating organizations and individuals.

__._,_.___
---
Posted by: World Movement for Democracy Team <world@NED.ORG>
---
---
Have you tried the highest rated email app?
With 4.5 stars in iTunes, the Yahoo Mail app is the highest rated email app on the market. What are you waiting for? Now you can access all your inboxes (Gmail, Outlook, AOL and more) in one place. Never delete an email again with 1000GB of free cloud storage.
---
.
__,_._,___